You are here:
Home
>
Tips For Twat
Tag Archives | Tips For Twat

The spring becomes alive!
The SoapFactory is hosting the New Land of Milk and Honey bazaar / closing party.
The music and activities are FREE for friends/freespirits/lovers, but we do encourage you to bring a pot to the potluck.
(2.45-4) Day-time Music:
Joint Custody
Tips for Twat
WhiteSand/BadLands
(4-5) Cartune Exprez
(5-6.30) Pot-luck Music:
Obchod Na Korze
Radical Cemeteries's
(7-11) Night-time Music:
NLMH presentation
Hooliganship (portland)
Moonstone
SkoalKodiak
Activate all other senses on-site with: workshops, tanning, activities, the internet.
Bring your own skivvies/small-clothes for tie-dying.
Feast on the full schedule here:
http://www.nlmhbazaar.blogspot.com/
3-26-2010
Notices:
COMMUNITY QUILT: Please feel free to bring a square
you have started at home, fabric remnants or sewing supplies!
A sewing machine will be available to use, but hand-sewing is
welcomed and encouraged! Facilitated by Nora Bacher.
TYE-DYING: Bring a garment from home if you would
like to tie-dye! Groovy! Facilitated by Emily Rohrabaugh
and Lindsey Rhyner.
3-27-2010
Notices:
NEW! TABLE WEAVING: Annika Kaplan will have a
selection of table looms available for you to try out, and
will be demonstrating techniques on her own loom! Cool!
Links:
Hooliganship
Cartune Xprez
The Soap Factory
Annika Kaplan
Aby Wolf
Josh Journey-Heinz
Michael Gaughan
Eric Carlson
Baby Skateboards
Soothing Almonds Collective
Ross Yates
Erin Smith
Brett Smith
Moonstone
Skoal Kodiak
TEQUILA TUES 2.02 – LARRY WISH, CHICKADEE MOUNTAIN MARTYRS, TIPS FOR TWAT
Tuesday, February 2, 2010 at 9:00pm
LARRY WISH
CHICKADEE MOUNTAIN MARTYRS
TIPS FOR TWAT
& CLOWN LOUNGE JAZZ
(Pianist Bryan Nichols leads his relatively new but intensely exciting quartet back into the Clown Lounge. His group features Clownge regulars Fat Kid Wednesdays and Bryan's original compositions.
Then bassist Jim Anton (of Johnny Lang's band) is joined by Noah Levy (Hookers and Blow) and Brian Gallagher (Prince) for a rockin' set of instrumental and experimental music.)
FRIDAY
All Day Event
HAUNTED HOUSE ( ALBUM RELEASE SHOWS )
7:00 PM
BareBones presents.. Devoured
8:30 PM
The Devil Makes Three @ 7th Street Entry
9:00 PM
Lookbook @ Turf Club
9:00 PM
Poutums @ Cafe Maude
10:00 PM
Minneapolis Dub Ensemble @ Memory Lanes
10:00 PM
SOOTHING ALMONDS COLLECTIVE PRESENTS: Obchod Na Korze, David Chain, Tips for Twat, Big Cop, Radical Cemetary, Fucked Clown, D.J. Fast Elvis
11:30 PM
Foodteam Trio @ Dakota Late Night
SATURDAY
All Day Event
HAUNTED HOUSE ( ALBUM RELEASE SHOWS )
7:00 PM
BareBones presents.. Devoured
9:00 PM
E.L. nO, A Night in the Box (as Elvis) and DJ Mary Lucia @ Lee's Liquor Lounge
9:00 PM
Gay Witch Abortion @ 331 Club
9:00 PM
Mystery Palace, the Blind Shake and Brutal Becomings @ 501 Club
9:00 PM
ZEBULON PIKE @ UPTOWN BAR
9:30 PM
Sims, Kristoff Krane and Mel Gibson & the Pants @ Sauce Spirits & Soundbar
10:00 PM
DISASTERATTI AS THE CRAMPS, PLUS GNR, AC/DC, MOTLEY CRUE & MORE @ TRIPLE ROCK
10:00 PM
INVISIBLE BOY / TO KILL A PETTY BOURGEOISIE / IS IS / TEENAGE MOODS @ THE HEX
10:00 PM
The Book Of Right On, Red Pens, Puppy Dogs and Ice Cream, Lady Hard-on @ Turf
10:30 PM
'Halloween Party' w/ Zombie Season The Funeral and The Twilight Hawks and Oxen @ Kitty Cat Klub
Sunday, November 1, 2009
7:00 PM
More Cowbell's First Sundays w/ Blackcloud Stallionheart, Lucy Michelle, Jack Klatt @ Acadia
BRUTEHEART is having their release show for their new album 'Brass Beads'
Oct. 17th at the Hexagon ( FREE )
with
GAY BEAST
and
THE CHAIN (from Milwaukee)
As if there wasn't enough going on tonight between the Animal Collective / Knife World shows @ First Avenue / 7th St Entry alone..
The Turf Club have enlisted me to start a new series on Wednesdays…
It does start later than most, so if you are looking for something to do late tonight, please consider stopping by…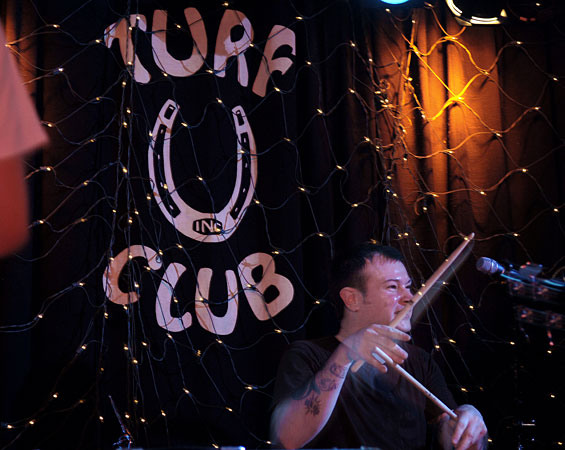 Plibt @ 1AM – Members of Velvet Davenport / Moonstone
Mines @ 12 – Just released debut record "Friends Anemones"
Andrea Ball (Denver, CO) @ 11 – For fans of Haley Bonar, Regina Spektor, Inara George (Bird & The Bee)
Large Marge @ 9 – Josh Granowski & Chris Hepola of Painted Saints, Aby Wolf, Poor Nobodys
The next installment is on June 3rd and will feature..
&